Deposition Summary Services
A deposition is an essential part of the investigation that occurs before a trial. The deposition includes all of the relevant facts and details of the case that the witness is aware of. At the pre-trial stage, all of the information is gathered.
Deposition summaries are a necessary component of litigation services because they reduce the burden on litigators of having to sift through the huge volume of deposition pages. We accomplish just that, as well as pointing you in the direction of the case focus areas. We keep meticulous records of dates, figures, names, and exhibits, as well as major events and acts.
By page and line, the Deposition Summary Report emphasizes major medical themes from the deposition. Typically, "Page Line" summaries are presented with columns for
Page line

Exhibit

Summary of the testimony
We have a team of experts who can condense hours of deposition testimony into a succinct summary that can save lawyers hours of time and thousands of dollars in legal expenses. Dates, figures, names, and exhibits are all meticulously recorded. We keep track of important events and actions. Our low-cost, high-quality deposition summary service allows you to save time and money while preparing for your case.
The salient features of our deposition summary
Customized and tailored formats

Cost-effective

Complete Confidentiality

Accuracy

Highly experienced and qualified medical professionals

Free Quotes
Download Sample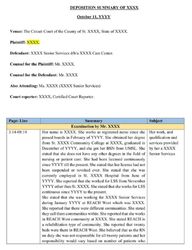 Deposition Summary Sample