Life Care Plan/Future Cost Report
A life care plan, also known as a future cost report, is a comprehensive document that outlines the estimated medical and non-medical needs of an individual who has suffered a catastrophic injury or has a chronic illness. It is commonly used in legal and insurance contexts to determine the future costs associated with the care and support of an individual. A life care plan report is a way to plan for an accident victim's future expenses.
The key points of our Life care plan services:
Summary of Patient Records

Current Medical Care

Equipment

Current Medications

History and Background Information

Current Medical/Physical Status

Life Expectancy

Recommendations & Future Cost Projection
The life care plan report covers various aspects of the individual's life, including medical care, assistive devices, medications, home modifications, transportation, personal care, therapy services, vocational training, and more. It considers the individual's specific needs and provides a detailed account of the frequency, duration, and cost of each recommended service.
Life care plans and future cost reports are often utilized in legal proceedings, such as personal injury cases or medical malpractice lawsuits, to assist in determining appropriate compensation for the injured individual. They provide a comprehensive and objective assessment of future care needs and associated costs, helping to ensure that the injured party receives adequate financial support.
A life care plan is typically prepared by a team of professionals, including medical experts, rehabilitation specialists, vocational experts, and economists. These experts collaborate to assess the individual's current condition, review medical records, conduct interviews, and evaluate the necessary medical treatments, therapies, and services required in the future.
Contact us today at 903-765-6073 or email us at support@medicolegalrequestllc.com for any information regarding our life care plan (LCP)/Future cost report services.
Request Sample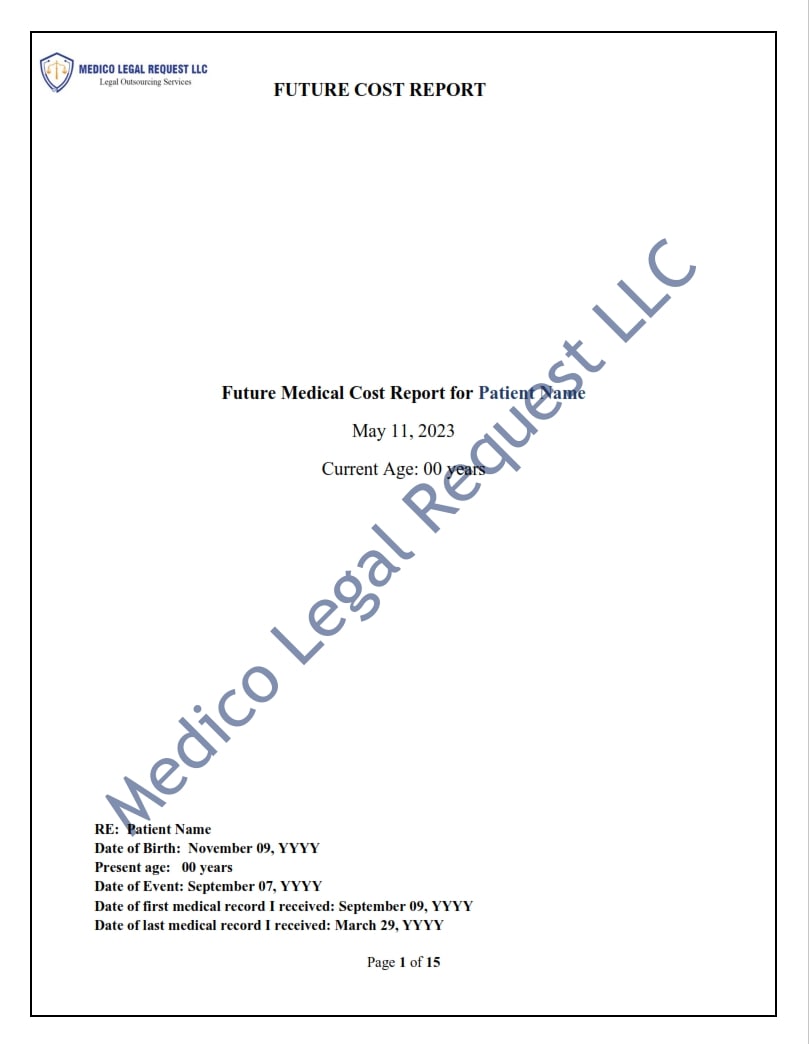 Life Care Plan Sample